Solar Trailer
There are many benefits of Solar Trailer: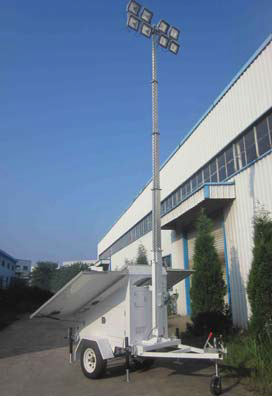 No pre-starts
No turn on and off
No fuel costs
Automatic operation with daylight or timer programing
Option for GSM or Radio Control
Minimal servicing costs
Full parts and service availability
Locally supported guarantee
These light towers are trailer mounted on either a tandem or single axle trailer and are fully solar operated.
They are fitted with 4 x 100watt LED Flood lights that will provide the equivalent of 4 x 250watt mercury vapour or similar.
For general are lighting, car park lighting, temporary work area lighting and many other applications where temporary or semi-permenant lighting is required, the Onedex Mobi-Solar Light Tower will meet the need without the ongoing diesel bill, and without the need for personnel to carry out pre-starts, turn on and off.
The Mobi-Solar Light Towers are fully compliant and fully road registered to the clients requirements.
Mobi-Solar Light Towers
The Mobi-Solar Light Tower can be fitted with a 2 KVA Diesel Generator.
A 240V outlet can be used for temporary power if needed.
The Mobi-Solar Light Tower is fully road registered.