LED Solar Lights
There are many benefits of Solar Lighting Systems :
Minimal in ground infrastructure
Zero energy running costs
Zero CO2 emissions
Reduced maintenance costs
Longer life
No black outs (OH & S friendly)
Environmentally sound investment
Reduced carbon footprint
In all installations, a major benefit is the elimination of black outs. In the event of power failure, these lights continue to operate providing a safe and secure environment.
Quick and Easy to Install in New or Existing Projects
In all applications the in ground infrastructure to install these lights are simply the foundation block and anchor bolt and in ground battery box (depend on client preference). Once this is in place, the light pole is simply bolted into place and the light is turned on. The lights are controlled either by a "daylight switch", a timer or a combination of both. Lights can also be controlled by remote control using GSM switching from a central point or from mobile phone using SMS, or via Internet. This is the clients' choice. Light pole heights and light intensities can vary depending on the application and the clients' requirements.
LED Lighting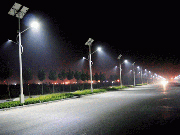 LED lighting consists of either single or multiple LED's (Light Emitting Diodes) fitted into a specific array or arrangement to provide the desired light distribution. These then usually use specifically designed reflectors to assist in spreading and magnifying the light to achieve the desired levels.
These are available in sizes ranging from 20watt through to 160 watt lights and provide exceptional light levels and high energy reductions when compared to traditional lighting products. They are available either as Street Light heads or as Flood Lights or tunnel lights and other specific application designs including hi bays and other indoor factory and warehouse lighting arrangements. The light distribution is different for each and the selection is based on the project requirements and required coverage.
Induction Lighting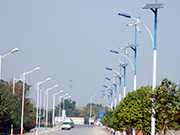 Induction lighting is light that is similar in its construction to a Fluorescent lamp, however the lamp is endless and without the traditional cathodes that are standard with fluorescent tubes. The lamp is activated by emitting high frequencies into the tube that cause the lamp to light up.
These lights are available in sizes ranging from 40watt up to 300watt and provide exceptional light levels and high energy reductions when compared to traditional lighting products. These lights are available also as Street lights, flood lights, tunnel lights and other specific applications including hi bays and other styles of indoor lights.
Advantages of LED or Induction Lightings
Other than the obvious energy and environmental considerations, OH & S is a major consideration in todays business and commercial world. Where personnel are working in large factory or warehouse complexed particularly at night, a simple "electricity brown out" or "power outage" can cause serious issues. Traditional high pressure lamps will go out in these instances and will not "re-strike" for up to 5 minutes. The LED or Induction lights will come back on immediately power is restored or in the case of the "brown out" not go out at all.
This makes for a much safer working environment.
In many warehouses where access is only required from time to time, it is standard practice to leave the hi-bay lights on all day due to the time to bring the lights back on to full brightness. In the case of LED and Induction hi-bay lights, these can be turned on and off as many times as you like with no deterioration to the lamps but with the advantage that they are at FULL brightness immediately, this eliminating the possibility of personnel walking into partially lit warehouse areas and the subsequent issues of tripping and injuries that could occur.
There is also the roll on effect of substantial energy savings where un-used lighting is not left running.
This is a WIN WIN that must be considered for the financial safety and environmental advantages.
Talk to us soon and take advantage of the many government grants that can assist with the implementation of your new lighting system.
Highway and Area Lightings
Where the option for low energy or solar lighting is being considered for highway or street lighting, it is again the required outcome and light levels that are first considered in the design stages of the project. The light levels and the required coverage are taken into account and light distribution curves and data sheets will be provided to the client to confirm in writing that the product will provide the required outcome with no reduction in light levels.
Onedex Communications Engineers have assessed many existing installations and it seems that lower light levels have been accepted in order to utilize this technology.
If you need lighting for a particular purpose at specific levels and coverage, it CAN be done with LOW ENERGY lighting systems in either LED or INDUCTION lighting. Onedex have access to a wide range of specifically engineered products to meet the project brief rather than "force fitting" standard products to a project.
It should also be noted that IF low energy lighting systems are not suited for any reason, Onedex Communications Team will offer traditional lighting at competitive rates and demonstrate to you the reasons for this.
Common Miss-Conceptions
There is a miss-conception out there that if you are saving energy you must be also reducing the light output of the unit. This is simply not the case with the equipment provided by Onedex Communications.
There is also the miss-conception out there that if you are seeking to utilize "solar lighting" there will also be a reduced light output to make it viable to use this technology. This also is simply not the case with equipment provided by Onedex Communications.
Office Lighting Solutions
There is also a full range or office lighting solutions available. Some of these are:
LED tube replacements in 300mm – 600mm – 900mm 1200mm – 1500mm to replace traditional fluorescent tubes with the benefit of reduced energy and reduced emissions.
LED downlight lamps to replace 20watt and 50 watt downlights with up to 60 – 80% reduced energy and emissions.
LED Solar aviation lights.
LED Solar emergency light (warning triangles and traffic warning systems).